Fire Prevention Plan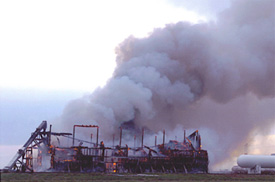 No one plans to have a fire, but pre-planning for a fire has been proven to save lives, preserve property and reduce the impact on the environment. Pre-planning the emergency response to a fire has a direct effect on the final cost of the clean-up and disposal.
This special web feature has been designed to bridge the gap between the efforts by agrichemical facilities and those of emergency responders by encouraging the pre-planning of fire prevention activities. Additional benefits of pre-planning using this tool are the coordination of joint efforts with emergency responders and the pre-determination of certain information, which may be important to the decision-making process if a fire occurs.
Specifically, this web based tool will assist in the development of a Fire Prevention Plan that:
Has been developed in accordance with OSHA Standard 1910.39, Fire Prevention Plans.
Is personalized to a specific facility.
Generates a Checklist for Emergency Responders.
You must have javascript enabled to use this form.