Handi-Plan™ Emergency Plan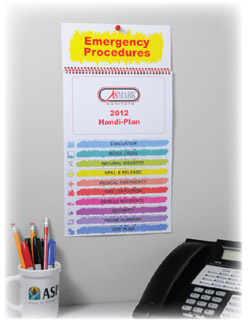 Designed Specifically for Agriculture
Underestimating the importance of emergency preparedness can have devastating effects on a business. An emergency can strike at any time, so we developed this very concise, colorful and extremely handy emergency plan, designed specifically for the agricultural industry.
Always handy - designed to hang near a phone, an exit or even a vehicle.
Highly Personalized.
"Flip chart" format provides quick and easy navigation.
Complies with OSHA's requirements for:


Emergency Response Plan
Emergency Action Plan.
A digital site plan is prepared for each facility as part of the Handi-Plan™. Handi-Plan™ information and site plans can be updated at any time throughout the year using our exclusive subscription service. At a minimum, all information should be reviewed annually for updates.
Subscription Services Makes Updates Easy!
$225
First year (including site plan)
Details
You must have javascript enabled to use this form.