Workplace Chemical List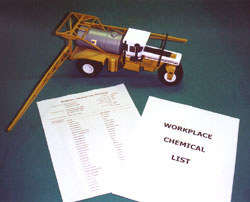 Use this web-based product list to make your Workplace Chemical List. Scroll through and pick the products you have in inventory. Once all of the products have been selected, your information for the Workplace Chemical List is submitted to the Asmark Institute to compile in a report format. The Asmark Institute will prepare the final report and send a copy to you to maintain on file at your facility.
Simple online process.
Combines personalized facility information with technical data.
Current data on demand.
Choose from almost 4,000 materials.
You must have javascript enabled to use this form.