OSHA AG-30 Hour Course
Scholarship Program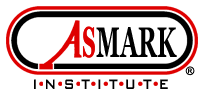 Scholarship Program
The Asmark Institute provides training scholarships for state and national regulatory agencies and other entities such as educational organizations challenged with overseeing or educating the personnel that operate agricultural businesses. Scholarships are also available to students, emergency response management and a member of the regulated community that does not have the ability to pay. Scholarships offset the cost of registration for the Signature Training Courses and are available on a first-come, first-serve basis. For more information on attending one of our Signature Training Courses under the Scholarship program, contact:
Asmark Institute
Allen Summers
4941 Goetz Drive
Owensboro, KY 42301
Bus: 270-926-4600 Ext: 201
allen@asmark.org
This course is a comprehensive safety training program specifically designed for the personnel that work at retail agricultural facilities. This program provides information on OSHA compliance issues using a combination of classroom lectures, computer lab, scenarios and hands-on exercises. In addition to learning about safety and health hazards in the workplace, students will also learn about OSHA, employer responsibilities, and worker rights and in turn, help identify the strengths and weaknesses in your safety program and procedures.
4-day course
$450.00 per participant
Pre-registration required
Conducted at the Ford B. West Center for Responsible Agriculture in Owensboro, KY
You must have javascript enabled to use this form.